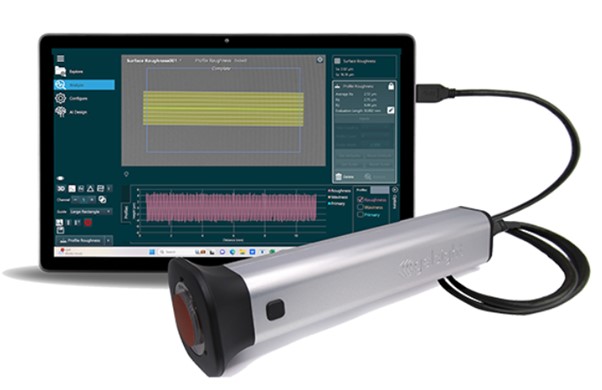 Introducing GelSight Max: The Highest Resolution Mobile Surface Characterisation Tool on The Market
From: Gelsight
Posted On: 28 Aug 2023
GelSight Max delivers lab-grade performance in the palm of your hand with submicron-level 3D measurement and surface roughness analysis capabilities
GelSight Max allows users to capture high resolution 2D images and 3D digital surface maps in milliseconds. These surface maps enable measurements such as profile and surface roughness to the sub-micron level, as well as measurement of surface features, such as scratches and pitting, regardless of the material comprising the surface. 
With the release of GelSight Max, the company expands its portfolio of portable mobile metrology and tactile sensing devices. These devices digitise surface information to enable qualitative and quantitative measurements and inspection processes which would traditionally require the use of expensive, static, and complex lab-based equipment.
GelSight Max is the highest resolution portable surface characterisation tool on the market, enabling repeatable measurements of roughness values down to an Ra of 0.2 µm and surface features of 1.0 µm. Additionally, GelSight Max's enhanced 2D and 3D imaging and measurement analysis functions provide traceable accuracy to 0.3 µm / 0.01 thou. This level of accuracy promises breakthrough improvements for mobile inspection processes in aerospace, automotive, energy, forensics, additive manufacturing, films and coatings, and more.
"Surface roughness analysis is a crucial, yet complex part of many R&D and production quality control inspection processes. GelSight Max is simplifying surface roughness analysis by allowing users to perform measurements in-situ, on any type of surface, with a level of repeatability and speed that other handheld devices on the market cannot provide," said Dennis Lang, Chief Business Officer at GelSight. "Our customers tell us GelSight systems are intuitive for a new user to set up and begin capturing high-quality 3D surface data with the press of a button, in as little as five minutes." 
"GelSight Max is revolutionizing the way that metrologists and inspectors observe, analyse, and document surface characteristics. Now, users can get highly precise profile or surface roughness measurements in an easily repeatable way, which eliminates the need to rely on lab equipment or difficult-to-use, non-repeatable portable profilometers" said Youssef Benmokhtar, CEO at GelSight. "Gelsight Max also offers all of the other surface inspection applications our customers have already become accustomed to from GelSight, including measurement of scratches and defects, hole diameter, and radius of curvature, as well as shot peen, pit detection, and corrosion analysis."