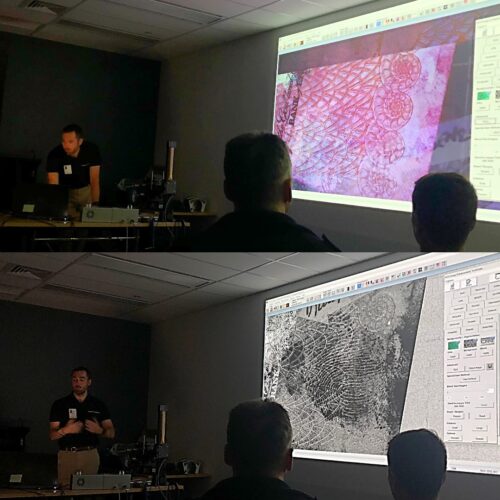 Australian Experts Attend Fingerprint Imaging Workshops
From: Foster+Freeman
Posted On: 24 Aug 2023
In a collaborative effort, forensic scientists and fingerprint experts from all over Australia participated in a series of fingerprint imaging workshops aimed at optimising the potential of evidence obtained through cutting-edge laboratory imaging technology.
When it concerns the detection, visualisation, and photography of fingerprints examiners can never possess too many tools in their arsenal. Fingerprint experts must be adaptable, resourceful, and equipped with the most advanced technology and training in order to tackle the seemingly limitless array of variables (surface type, contaminants, age of print etc).
With this in mind, Foster+Freeman teamed up with Warsash Scientific, the Canberra Institute of Technology, the University of Technology Sydney, and Queensland Police to provide a series of free-to-attend technical workshops open to all Australian police laboratory personnel.
With training centred on the use of the DCS-5 Fingerprint Imaging Workstation, the workshop explored the skills and techniques associated with Visible and Non-Visible fingerprint photography.
Workshop attendees included the Australian Federal Police, NSW Police, QLD Police, NSW Health, University Staff and PhD students
Visible Fingerprint Photography
Demonstrating core workflow techniques, from image acquisition to image output, including a range of specialist lighting techniques, lenses and filters required for various surface shapes and colours.
Non-Visible Fingerprint Photography
Demonstrating software features including contrast adjustments and histograms, and the more application focused toolboxes. More advanced techniques such as irregular pattern background removal, and regular pattern removal (FFT) were also demonstrated.