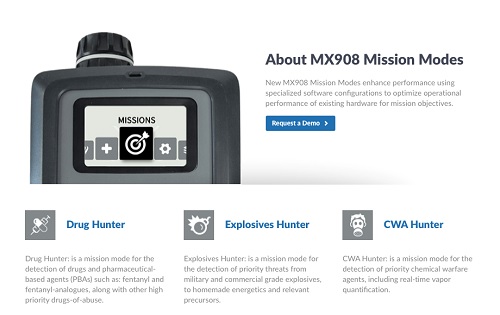 Drug Hunter mode for the detection of fentanyls
From: 908 Devices
Posted On: 27 Mar 2018
908 Devices continues to expand capability, providing real-time solutions to real-world problems.
908Devices introduces the new Drug Hunter Mode on the MX908 in response to the opioid crisis. With this mission-focused mode, MX908 can identify 70+ common variants of fentanyl at trace levels. Today, first responders are successfully using MX908 on a daily basis in response to the fentanyls epidemic.
Similarly, MX908 has a built-in CW Hunter Mode making this device uniquely capable of detecting and identifying many other emerging threats. This includes rare chemical warfare agents (CWAs) and novel threat materials.
It's ability to adapt quickly to the priority threats of today makes MX908 unique. MX908 can cover a broad range of threat categories – from the common to the extremely rare – all in one device. There is no other downrange trace detection and identification tool with this level of flexibility.